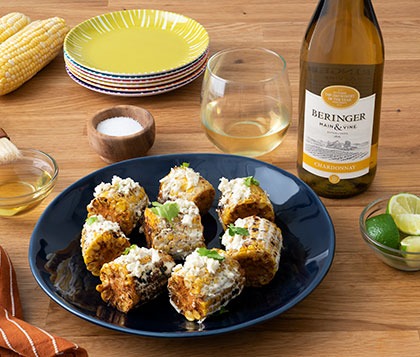 Mexican-Style Street Corn
Preparation Time 15 minutes
Cook Time 10 minutes
Total Time 25 minutes
Servings 4
Ingredients
---
4 cobs corn, husks and silk removed
2 tbsp canola oil
1 tsp brown sugar
1 tsp chili powder
1/2 tsp ground cumin
1/2 tsp each salt and pepper
1/2 cup sour cream
1 tsp lime zest
2 tbsp lime juice
1/2 cup finely crumbled feta cheese
1/4 cup finely chopped fresh cilantro
Directions
---
Preheat grill to medium-high heat; grease grate well. Cut each corn cob into thirds; toss with oil. Season with brown sugar, chili powder, cumin, salt and pepper.
Grill for 10 to 12 minutes or until well marked and tender.
Stir together sour cream, lime zest and lime juice; spread over warm corn. Sprinkle with feta and cilantro.
Tips
---
Garnish with diced seeded jalapeño pepper for extra spice.
Pairs perfectly with our Main & Vine Chardonnay.
Back to All Recipes